Planning Commission wants to eliminate parking requirements for outdoor dining and allow off-site alcohol sales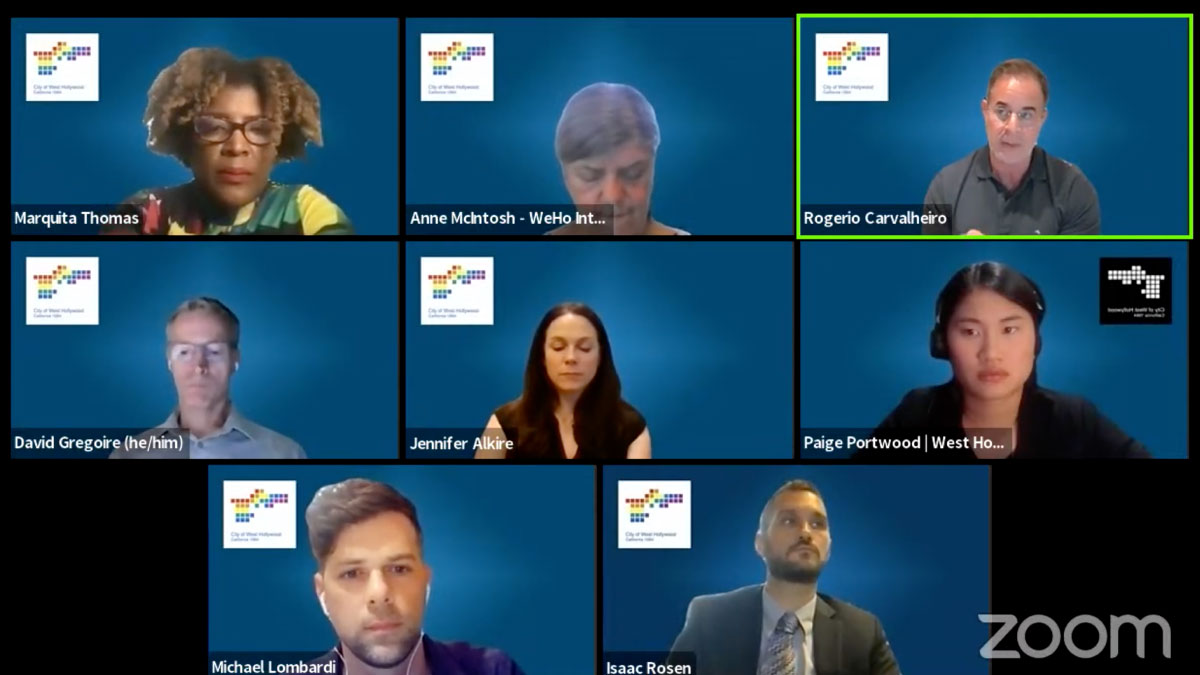 The West Hollywood Planning Commission is recommending that two COVID-era policies — outdoor dining in public spaces and liquor sales for offsite consumption — become a permanent option for WeHo restaurants.
In June 2020, the city created the OUTzone program which allowed commercial spaces to expand their commercial activities outdoors in the public right-of-way (sidewalks and metered parking) and on private off-street parking lots.
The Planning Commission approved an amendment to zone text that would allow outdoor dining spaces to operate without additional parking, regardless of square footage. Specifically, it would eliminate parking requirements for all outdoor food courts in the public right-of-way (sidewalks and parking meters) and on private property. Currently, West Hollywood city code only allows up to 250 square feet of outdoor dining without requiring additional parking. For areas over 250 square feet, the Municipal Code requires 3.5 parking spaces for every 1,000 square feet of outdoor dining.
Before the vote, a lively discussion was launched by Commissioner David Grégoire.
"I've been on the commission for five months now and the only thing that keeps bothering me is the parking issues. I know there's a big push for everyone to get rid of their cars and use bikes, but that's probably going to happen over several decades. I understand the business community saying they won't be harmed by removing these parking spaces. There weren't any major citations or citations during the pandemic due to these OUT zones, but there was the volume of people going to businesses and West Hollywood was also down during the pandemic. So as this moves forward through City Council and staff continue to work on it, I think we really need to be aware of the cumulative impact of reduced parking minimums in many different contexts.
"I personally can't think of too many businesses using the parking lot as a restaurant that aren't about four blocks from a parking structure," Commissioner Rogelio Carvalheiro said.
Public comment was limited, with only Manny Rodriguez submitting a written comment.
"When there is no parking, customers use Ride-Hailing (formerly called "Ride-Sharing") to arrive individually at a location. This Ride-Hailing vehicle never leaves the road and contributes to traffic chaos and harms the environment. Parking is good, no parking, it's No Bueno," Rodriguez wrote.
The Planning Commission also approved an amendment that would permit the sale of alcoholic beverages for on-site and off-site consumption in residential-zoned districts with a conditional minor use permit. A California Senate bill that took effect in January extended off-sale privileges to certain ABC licensees allowing them to sell distilled spirits, beer, and/or wine for off-sale consumption (take-out via the pickup).