Caldwell County Commission Announces Contract Award for Construction of Little Otter Creek Reservoir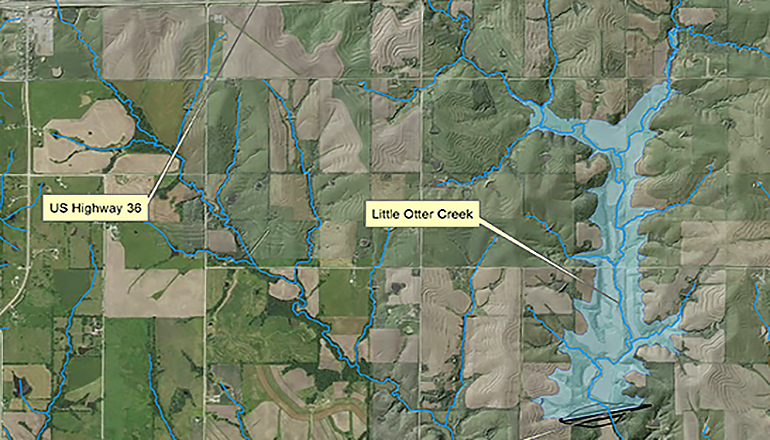 The Natural Resources Conservation Service of the United States Department of Agriculture in Missouri and the Caldwell County Commission have announced a contract award for the construction of the Little Otter Creek Reservoir. The contract for $ 14,400,486.75 was awarded to Phillips Hardy, Incorporated of Booneville.
Under the contract, a 345-acre reservoir will provide 1.24 million gallons of raw drinking water per day, reduce flooding along Little Otter Creek, and provide recreation for area residents and visitors. Construction is expected to start in March.
The Little Otter Creek Reservoir Project is supported by the Federal Watershed and Flood Prevention Operations Program, which allows the NRCS to partner with state and local entities to protect and restore watersheds. The program requires a local sponsor, a role accepted by the Caldwell County Commission. Non-federal contributions are also required, provided by the Multi-Purpose State Water Resources Fund and Caldwell County Taxes.
The Missouri NRCS started geological and engineering services to design the 82-foot earthen dam and concrete exit works in 2007 with revisions and updates in 2020. The Missouri NRCS is funding 58.1% of costs of dam construction and exit works and 100% of other engineering services. , including contract administration, construction observation and raw water intake design. Half of the cost of constructing the raw water intake structure will also be funded by the Missouri NRCS.
The NRCS has committed over $ 16 million, and state and local governments have contributed over $ 5.5 million. The citizens of Caldwell County passed a half-cent sales tax in 2002 for the lake and contributed more than $ 4 million in local taxes. Most of the funds were used for land acquisition, surveying, obtaining permits and other preliminary activities. The state has also provided financial support and assistance from the Missouri Department of Natural Resources and other state agencies.

Views of the publication:
417
Related