Bidens participates in USS Delaware commission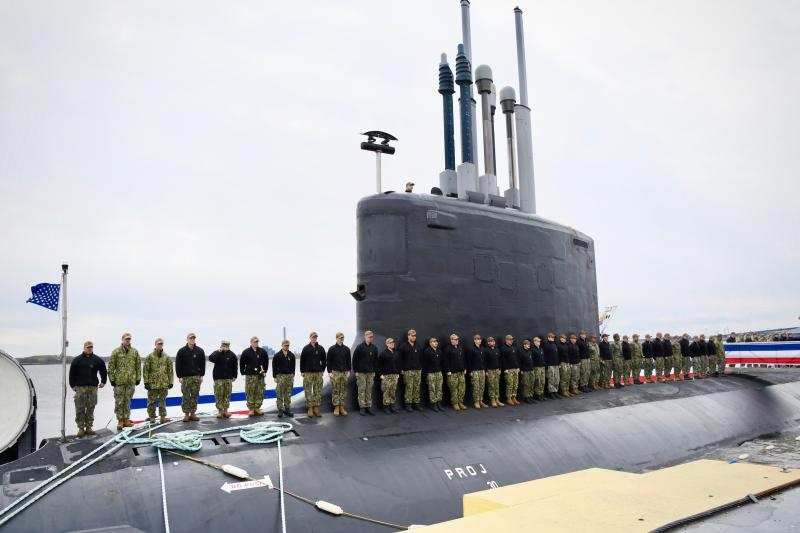 On April 2, President Joe Biden; First Lady Jill Biden, ship's sponsor; U.S. Sen. Tom Carper (D-Del.); and state and navy leaders celebrated the commissioning of the USS Delaware, a Virginia-class nuclear-powered fast-attack submarine, during a memorial ceremony at the Port of Wilmington.
"The men who serve — and will serve — aboard the USS Delaware will carry our state's name for decades as they defend our nation. Through their sacrifice and service, may we come even closer to that more perfect union," Carper said.
"This last ship to carry [the name of] The USS Delaware is part of a long tradition of proudly serving our nation and strengthening our nation's security – the security of the United States of America, and not just us, but also our allies and partners around the world" , said President Biden.
"This ship will always uphold the First State's motto of freedom and independence. Today marks the beginning of an incredible journey of the ship's long and faithful service to our country," said Jill Biden.
"What a special day for Delaware and for our country," Governor John Carney said. "I have been so inspired by every Sailor on this ship that we have watched their progress – training and learning all about their new home on the USS Delaware. The people of Delaware are proud to embrace the USS Delaware and her crew Thank you Senator Carper for your leadership, and thank you to the officers and crew for your service and sacrifice.
USS Delaware is the first ship in the Navy to bear the name of the first state since 1923 and the seventh ship to bear its name overall.
The 337-foot-long submarine was built by Newport News Shipbuilding and General Dynamics Electric Boat. Nearly 4,000 shipbuilders supported the construction.
It was launched from its home base at Naval Submarine Base Groton, Connecticut on December 14, 2018. Due to the COVID-19 pandemic, a ceremony scheduled for April 4, 2020 was canceled and the ship became the first in naval history to be commissioned underwater. According to Cmdr. Matthew Horton, the ship will have another year of trials and crew training before it can be deployed.
About the USS Delaware:
With nuclear power, the sub will never have to refuel.
The crew includes 134 officers and staff.
The submarine weighs 7,800 tons and is armed with tomahawk cruise missiles, MK-48 torpedoes, advanced mobile mines and an unmanned underwater vehicle.
There have been seven other boats bearing the Delaware name, including ships used in the Revolutionary War, Civil War, and World War I.
The last ship to bear the state name was USS Delaware BB-28, commissioned in 1910.